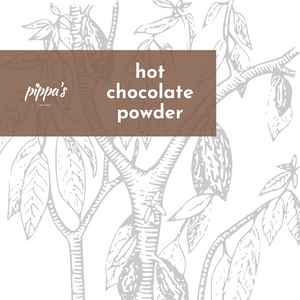 Indulge in the ultimate hot chocolate experience with our Hot Chocolate Powder. Made with premium quality cocoa powder and sugar, our blend creates a rich, velvety smoothness that will leave your taste buds begging for more.
To make the perfect cup of hot chocolate, simply follow these instructions:
| Step | Amount |
| --- | --- |
| 1. Melt chocolate | 20-30g per 10oz/285ml |
| 2. Add hot water | A small amount |
| 3. Add steamed milk | As desired |
| 4. Stir and enjoy! | |
Our Hot Chocolate Powder is versatile too. Use it as a topping for your favorite desserts, or sprinkle it over your morning coffee for a decadent mocha treat.
Order now and take your hot chocolate game to the next level!